Rethymno is the third largest city of Crete with a population of more than 40,000 people. It is located on the north coast of the island 80 Km west of Heraklion and 60 Km east of Chania. The old town was almost entirely built by the Venetians and it is one of the best preserved old towns in Crete. The town still maintains an aristocratic appearance with buildings dating from the 16th century, stone staircases, arched doorways, narrow roads and the small Venetian harbor. Among the most important monuments in the city are the Fortezza castle, the Neratze mosque, the Great Gate, the Piazza Rimondi and the Venetian Loggia.  For more information visit Rethymno City's website. For more details view a detailed city map.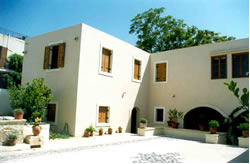 The Institute for Mediterranean Studies (IMS) where the seminars will be organized, is located in the old town of Rethymno south of Fortezza Castle and 200 meters west of the small Venetian harbor. It was founded in 1985 and belongs to the research units of the Foundation for Research and Technology, Hellas (FORTH). The purpose of IMS is to support and invigorate research in the field of the human and social sciences, as well as to promote the application of advanced technologies in the field. The IMS possesses a fully equipped Laboratory of Geophysical-Satellite Remote Sensing (GIS) & Archaeo-environment, specialized in archaeological research.
The Library of the Institute is focused on Turkish Studies and Art History. In the Library archival material, as well as collections of Greek and foreign newspapers in digital form and microfilms are kept. The objective of the IMS's research programs is to study the geographical space, the history and culture of Greece and the other Mediterranean countries in various historical periods, from prehistory to modern times.
The research programs of the Institute are carried out by its permanent researchers and collaborating faculty members. Research programs are prepared, PhD Thesis and other diplomas are submitted to the higher educational institutions with which IMS collaborates and particularly to the University of Crete, the Technical University of Crete and the Technological Educational Institute of Crete. The IMS supports education at post-graduate and post-doctoral level with a considerable number of annual scholarships, thus contributing to attract a steady flow of young researchers and to promote research in the field of humanities at the periphery.
The lab of Geophysical- Satellite Remote Sensing and Archaeoenvironment of IMS-FORTH has created a WEB-GIS based archaeological database for the whole island of Crete. More information can be found at Digital Crete portal.
Institute for Mediterranean Studies (IMS)
Laboratory of Geophysical-Satellite Remote Sensing & Archaeo-environment